Recent figures show that parents spend, on average, $330 on Christmas gifts per child – a figure that can be crippling for some families and, one which often leads to out of budget expenses. 
As advertising and marketing continues to grow, so does consumerism and the result is: unnecessary stacking of material objects. Many children wake up on Christmas morning to an overwhelming – and sometimes unnecessary – amount of gifts. 
For young children, the sheer volume of presents to unwrap can enventually suck the excitement out of the big day. The pressure on children to keep up a level of enthusiasm and gratitude can become compulsive and result in a grouchy child acting up on what should be a happy day.
If all that isn't enough, it also leads to the expectation of excess cycle – if a child receives ten presents this year, he or she might expect the same or more next year; another Dudley Dursley in the making?
It can also cause financial or "setting right expectation in kids" anxiety for parents.
 So, what's the answer?  Smart presents. If you agree to it, share this article with a friend now!
Before you cry, 'But all of their family and friends will give a lots of presents,' hear me out.  I'm not suggesting that you revert back to the olden days where a child would receive nothing more than an orange and a gift box; just that you take a more 'quality over quantity' approach to benefit both your wallet and your child.  
Don't Overwhelm Kids With Too many Gifts
Many parents who have discovered that stocking fillers equal empty wallets are turning to the 3 Gift Rule in order to keep Christmas special and reduce anxiety.  In essence, the 3 Gift Rule seeks to tick three important boxes when it comes to managing children's expectations.  These three gifts are categorized as:
Something They Want – No doubt your child has spent the last couple of months extolling the virtues of a particular toy, game or piece of tech that they've got their eye on.  This is where Something "They Want" comes in.
Something They Need – This middle level gift speaks to items which, although not hugely desirable, are necessary and of significant expense. This gift is useful in instilling in your child the fact that 'things' cost money whether they're necessary or desired.
Something They Read – It should go without saying that every child, however young, will benefit from being introduced to the world of books.  Something "They Read" can cover a child's first ever storybook through to those expensive textbooks for the college years.
Remind them why they're celebrating
Whether you're religious or not, it's worth using the "3 Gift Rule" as a reminder to children that there is a meaning to Christmas beyond that of a 'gift grab'.  The tradition of gifting at Christmas is an old one and one which has its roots firmly entrenched in the story of the birth of Jesus Christ.  Traditionally, Christmas gifts would mirror those presented to Jesus by the three wise men; Gold, Frankincense and Myrrh and, some families still choose to model their gifting around these items.  Although you'll be hard pressed to find Myrrh in Macy's or your local shopping mart, these precious gifts can be interpreted for the modern world as follows:
Gold – Not to be taken literally, this doesn't have to be jewellery but, instead, the 'Something They Want' item – a gift which your child desires and will treasure.
Frankincense – This is an aromatic resin used for essential oils and is said to have spiritual qualities.  A translation of this gift under the heading 'Something They Need' could be an item connected to well being such as a dance, gym or yoga class membership.
Myrrh – A natural resin used as a perfume or anointing oil, Myrrh was said to traditionally represent death.  Although this may seem a grim topic for a gift, this lends itself naturally to 'Something They Read' and can take the form of a book about an inspiring leader or adventurer from history.
You don't, of course, have to follow the three wise men in order to make wise gift choices within the 3 Gift Rule. 
3 Gifts – 3 Valuable Life Lessons
As well as simplifying the gift buying process at this frenzied time of year, the 3 Gift Rule allows parents to have the finance conversation with their children.  Contrary to popular belief, you're not robbing your child of his or her childhood by letting them know the value of money.  If you haven't yet had this conversation with your child, the run up to Christmas is the perfect time to do so.  This can have three major benefits as follows:
Making Memories – If you ask your child about their favorite gift from last year, there's a good chance that they received so much that they'll struggle to remember.  The 3 Gift Rule allows for more memorable gifts.
Encourage Generosity – For children, Christmas is a time when they, quite naturally, think about themselves and what they want.  It's also the perfect time to introduce the idea that others are not as fortunate as they are and, to encourage charity and generosity by sacrificing a small gift or two for themselves.
Lessons on budgeting – It's never too early to explain to children that a splurge now may mean going without something in the future.  Most children will understand the benefit of having a little less for Christmas in order to have an extra treat at other times of the year.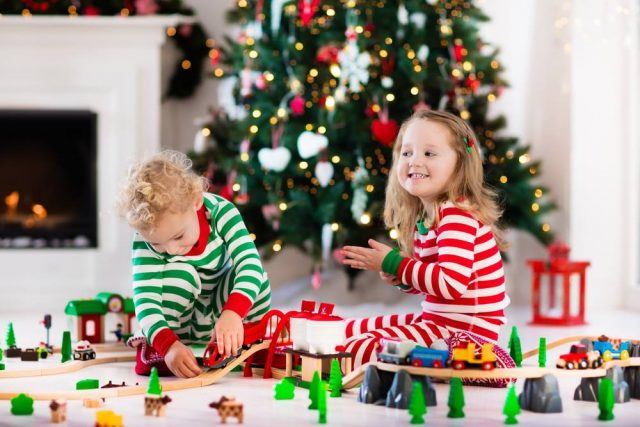 Want, Need, Read (W,N,R)
If this is your first time with the 3 Gift Rule, you may find that you struggle to get started.  The following is my guide to a little 3 Giftspiration:
Something You Want
This is usually the easiest of the three as most children 'want' something pretty much all the time. If not,  ideas can include:
      1.  VTech 8-in-1 Kidi Concert in Pink to add a little music to your child's life.
      2. A Potter Art Workshop for your little wizard
      3. A Build Your Own Toys & Machines for your mini-engineer
Something You Need
It may be that your child has an interest which should be nurtured and, this can be considered to be Something You Need.  Examples include:
A cool rucksack or school bag is a great way of crossing the divide between want and need.

Give the gift of hours of fun with their very own little robot.

STEM and STEAM courses

– As well as boosting education and a future career, our STEM and STEAM courses are also great fun for kids. Courses like

Electronics For Kids

can be the spark that a child needs when finding his or her passion.
Something You Read
Whatever their age, children tend to enjoy stories – particularly those with relatable characters.  Some good examples are:
For your little ones,

I'd Really Like To Eat A Child

is great fun – and a really good way of introducing books to young children.
Rescue Mission With My STEM Invention

is a fun and engaging read for 6-10 year olds and is perfect for inspiring a love of reading.
For older children,

The Secret Lake Mysteries

is a

cracking read and will keep your child gripped until the very last page.
Alternatively, try firing their imagination with a magazine subscription based on their interests.  They'll enjoy reading these – and will feel terribly important receiving their very own mail!
By cutting down on expensive presents which will be forgotten, you're certainly not being a Grinch.  You're being the parent who is determined to keep Christmas memorable and special!
If you agree to it, share this article with a friend now!