Attention, educators, teachers, homeschoolers, and anyone passionate about inspiring young minds through STEM education! Are you tired of endlessly searching for engaging and effective STEM lesson plans? The struggle is real, and the clock is ticking. That's why we're here to make your life easier and more exciting with our FREE STEM lesson plan which is a perfect template for all your sessions.
The STEM Challenge
STEM (Science, Technology, Engineering, and Mathematics) education is the key to preparing our children for the future. It cultivates critical thinking, problem-solving, and creativity while bridging the gap between the classroom and real-world applications. However, finding high-quality STEM lesson plans that align with your curriculum can be a daunting task.
Your Solution: FREE STEM Lesson Plan
At Wizkids Club, we understand the value of your time and the importance of a well-rounded STEM curriculum. That's why we've created a FREE STEM lesson plan that's ready for you to download and implement in your classroom or homeschool environment. No more hunting for STEM challenges; we've got you covered!
What's Inside?
Our FREE STEM lesson plan is designed to be versatile, engaging, and suitable for a wide range of ages and learning environments. Whether you're teaching in a traditional classroom, homeschooling, or simply looking to infuse some STEM magic into your lessons, our plan is your secret weapon.
Here's what you can expect to find:
1. Engaging STEM Activities
Our lesson plan is packed with hands-on, interactive STEM activities that will spark curiosity and inspire learning. From building simple machines to exploring the mysteries of the natural world, these activities are designed to captivate young minds.
2. Easy-to-Follow Instructions
We know how crucial it is for educators to have clear and concise instructions. Our lesson plan provides step-by-step guidance on how to conduct each activity, ensuring a seamless and stress-free experience for both educators and students.
3. Materials List
Don't worry about scouring the internet for supplies. We've included a materials list for each activity to help you gather everything you need ahead of time.
4. Alignment with Educational Standards
Our FREE STEM lesson plan aligns with educational standards, making it a valuable addition to your curriculum. You can trust that you're providing a high-quality education while making learning fun.
5. Suitable for All Ages
Our lesson plan is adaptable for different age groups, so whether you're teaching elementary, middle school, or even high school students, you'll find activities that fit your needs.
Get Your FREE STEM Lesson Plan Today!
Ready to revolutionize your STEM teaching experience? Download our FREE STEM lesson plan now and watch your students light up with excitement as they dive into hands-on experiments, critical thinking challenges, and the world of STEM discovery.
STEM CHALLENGE: Design a Sound proof Theatre.
Here is the entire STEM LESSON PLAN for you.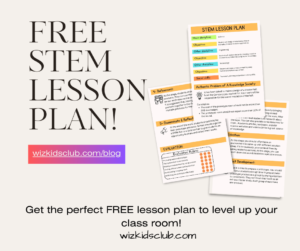 Join us in our mission to inspire the next generation of innovators and problem-solvers. Together, we can make STEM education more accessible and enjoyable for everyone.
Don't wait! Grab your FREE STEM lesson plan today and say goodbye to the hassle of hunting for STEM challenges.
Let's embark on this journey of educational discovery and fun together!
If you want to super charge your classroom with more plans and be completely stress-free here is the collection  "STEM & STEAM NEXT-GEN PROGRAM " you can get now!
Buy Here: STEM & STEAM NEXT-GEN PROGRAM
$4.00
This revolutionary STEM & STEAM Next-Gen Program is a cutting-edge scientific learning system. It will accelerate engagement in hands-on learning and teaching projects. Aligned to the Next Generation Science Standards (NGSS), students will make their own state-of-the-art projects.
✨ INSIDE THIS BOOK!
✅ 10-weeks of accelerated learning lesson plans.
✅ Introduction to STEM careers, including scientists, engineers, architects, coders, robotics, and more.
✅ STEM activities related to real-world challenges professionals face.
✅ Minimal preparation, a hassle-free resource for teachers and educators.
✅ Checklist for preparation and planning in advance.
✅ Lessons following the Engineering Design Process
Perfect for teachers, educators and parents. Minimal preparation for creating lesson plans and content.