BOOK1: STEM & STEAM Next-Gen Program
Appropriate for ages 6 to 10, this handbook presents loads of information for your enthusiastic learner. Not only does it tickle your kids' curiosity by engaging them in various experiments and projects, but it will also impart understanding about STEM careers. It will also encourage your students to develop their own state-of-the-art projects and other activities that your students can safely do.
Highlights of the book
Lesson plans for 10 weeks of accelerated learning
An overview of STEM careers such as science, engineering, architecture, coding, robots, and more.
Easy-to-use resource for teachers and educators that requires minimal preparation.
A checklist for pre-planning and preparation.
Timed lessons based on the Engineering Design Process.
Book2: STEAM AHEAD! DIY FOR KIDS
The author has written a fantastic book for creative children who want to work on projects that are both engaging and practical. Using easily available materials and simple instructions, kids can understand what to expect from each set of activities. The author has also rated each experiment for difficulty levels to help kids attempt age-appropriate projects.
Instructions are detail-oriented, telling the why and how of each project, an estimate of the time it will take to complete, and a picture of the finished product. Also, how it factors into STEAM and step-by-step instructions with pictures of the steps if necessary.
Highlights of the book
Inside this book you will find projects
LED cards and necklace
Lava pen
Handmade soaps
Shoebox projectors
Cloud Lantern
Lego printing and much more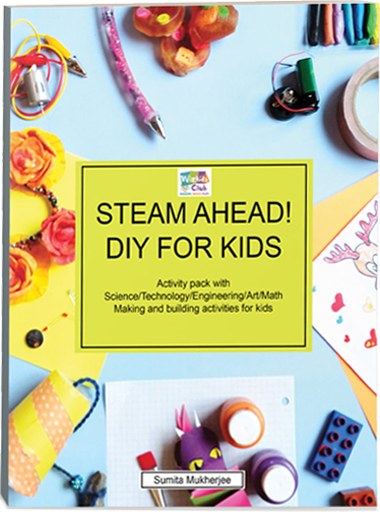 Book3: Cool Science Experiments for Kids!
This book features 19 DIY science projects and activities that your young scientists will definitely love. The projects include things like making invisible ink, slime, a spinning doll, handmade paper, a marble maze, a candle holder, a salt clock, and more with a mix of indoor and outdoor activities.
This book includes something for all kids between 6 to 10 years, from pulleys to bracelets and legos to dolls. Furthermore, it will be an excellent resource for days when you need something to keep the kids occupied, such as when it is too hot or cold for outdoor activities.
Highlights of the book
Motion and Energy e.g., machines, electricity etc.
Math concepts such as time, measurement and multiplication
Brain games and crafting activities
Fun science experiments like erupting bottles
Book4: Famous Stem Inventors
Children enjoy learning and exploring; all it takes to become an inventor is to recognize a need and have a creative mind; anyone can come up with something new. This is a fantastic book for young kids to get their creative juices flowing and help them realize the value of using their imagination.
They'll learn about people their age who have invented amazing things like luminescent paper, popsicles, cow poo freshener, and windsurfing.
Highlights of the book
Stories of inventors
Engineering design process
Sketching and designing exercises
Hands on learning
Creative and practical projects
Testimonials from Amazon:
Gina Stamper reviewed; This bundle contains everything that children's educational books should have.
Kids will love the fact that these experiments will challenge them while being fun at the same time. They learn in a fun way and can keep up with the writing style. It is difficult to find books that really appeals to a child's sense of curiosity without being bogged down with learning, but I think that Sumita Mukherjee has really nailed it with this lot!