Do you want to know the #1 secret to teach kids coding and programming easily?
Get amazed as your child creates apps, games, animation, and websites easily on the computer?
They are able to understand all about computers and the backend of coding?
Let's look at the basic coding programming languages every child should know before age 10!
In this day and age we live in, there are computers absolutely everywhere! Many of the things we see and use in our everyday lives have computers to help them work. Seems like they are definitely here to stay and rule.
But how essential is it to learn programming in this century? And what is this craze about coding for kids now-a-days? Is my kid ready to learn it? What are the best ages to get started and so many more questions. Right?
 I will share with you some of the very basic tips and facts on coding, super easy ways to learn computers, how to get started in an instant and all about coding.
We will cover these topics:
What is coding?

Why is it a must in this century

Types of languages: Which one should my kid learn first?

Making a start with coding: How you can start now and no cost!

Best books on coding

Conclusion
As parents, we have to accept that the career landscape our kids are facing is very different from the one we, ourselves, experienced. More and more of today's world is dominated by software – which means that, whatever industry your child chooses, a knowledge of coding will be pretty much essential.
What is coding?
Coding is a list of step-by-step instructions that get computers to do what you want them to do. Algorithms are written in a special computer language called code.
Coding makes it possible for us to create computer software, games, apps and websites. Coders, or programmers, are people who write the programmes behind everything we see and do on a computer.
 Computer programs must be very precise because computers do not have a brain and can't think for themselves. Computers are great at following instructions, but they will follow instructions even if they are wrong. The best instructions are often those which use the simplest possible way to complete a task.
Top 5 Reasons Why Coding for Kids is Essential:
 These days, technology is moving at a lightning speed and, as we speak, artificial intelligence (AI) and machine learning are transforming every aspect of our personal and professional lives. Any child who doesn't familiarise with coding from an early age will be a kid who finds themselves being left behind.
 For the uninitiated, it is a series of programming languages which makes it possible for us to create computer software, social media, websites and apps and, in this article, we're going to take a look at coding – and why it is vital for your child's future.
Ideas become reality
Code is one of the world's most used languages
Kids learn faster when introduced at an early age
Coding encourages critical thinking and problem solving
Opportunity for kids to unlimited imagination and possibilities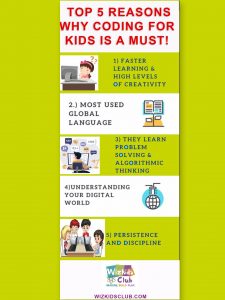 Top coding languages for kids:
 As we've mentioned, coding uses special languages which need to be learned in order to create apps, websites, games and more. There are lots of different coding languages out there which requires a wide range of skills. Many of these feature a level of complexity best left to the experts but, we've chosen some of our favourite programming languages which are suitable for children between the ages of 6 and 12:
Scratch

Java

Lua

Python

C++

C#
Swift
We highly recommend MIT's Scratch program for kids looking to get started with coding. Scratch is a great primer because it's drag-and-drop programming, which allows students who don't have advanced typing skills to easily learn the logical rules and core concepts.
If you want to know more about each language, please visit this site HERE
This is the main reason kids should start with scratch programming from an early age and move on to Python, Java and other languages. This will enable them to become creators of games, apps, website and animation and hon the 21st century skills easily!
Making a start with SCRATCH coding at zero cost!
At WizKids Club, we firmly believe that learning to code is essential even for very young kids, which is why our course includes a number of simple projects for kids 7+ years of age. We have kept it FREE for 7 days to encourage kids to get started easily.
 You can check it out here: https://wizkidsclub.com/c/?p=scratch
 For children starting out on their coding journey, Scratch is our language of choice. Simple, straightforward and easy to follow, Scratch is the perfect starting block for your budding coder. Perfect for ages 7 and above.
 Scratch uses what we call 'block based coding'. In essence, this means that instead of having to enter complex text instructions, your child simply has to drag and drop blocks of instructions in order to create his or her code.
 In Scratch, a series of eight categories of block can be connected (kind of like a techy form of Lego) in order to create a code without syntax errors. These eight categories are: Control, Motion, Looks, Sound, Pen, Sensing, Operators and Variables. Developed specifically for children, Scratch uses a formula which young kids are familiar with, in order to provide a gentle introduction to programming.
Scratch Tutorials for you:
Basics of Coding:
An interactive learning resource, the Beginner's Coding Guide. This guide gives educators a resource to introduce the basics of coding on a safe and fun website.
Top 5 Scratch programs for kids:
 At WizKids Club, we firmly believe that learning to code is essential even for very young children, which is why our course includes a number of simple coding projects for kids 7+ years of age. Some of the best loved projects are:
Rainbow Art

Dancing Sprite

Guess The Number Game

Name Animation

Story Animation
Join the club today and in no time will your child be able to understand programming, make games and animations!
Top 5 Coding Books for Kids:
 Invented by MIT (Massachusetts Institute of Technology), Scratch is an open source system that allows children to create their own programs to make interactive stories, games and animations. Instead of typing code which can be tricky for young minds.
Here is a list of top 5 books for kids.
 While you consider enrolling your child to WizKids Club's Scratch online course, there are a number of books which can help you and your child get all the support that is needed.
Our top 5 favourites are:
1)Coding Animation and Games with Scratch: A beginner's guide for kids to creating animations, games and coding, using the Scratch computer language by Sumita Mukherjee
This book is the perfect start for parents looking to introduce their child to coding. Using Scratch, the book includes step by step instructions for creating games, animation and more. This comprehensive beginner's guide makes learning fun for young children.
 2) Coding Projects in Scratch: A Step-by-Step Visual Guide to Coding Your Own Animations, Games, Simulations, a (Computer Coding for Kids) by Jon Woodcock
This book helps young children to get to grips with Scratch 3.0 using this beginner's guide to coding. With straightforward instructions, the book is fun and educational for the budding programmer.
 3)Coding for Kids: Scratch: Learn Coding Skills, Create 10 Fun Games, and Master Scratch by Matthew Highland
From sprites and code blocks to scripts and scorekeeping, "Coding for Kids: Scratch" guides children through the process of creating 10 great games. Clear directions keep things fun and simple for young children – and their parents!
 4)Coding for Kids in Scratch 3: The Complete Guide to Creating Art, Artificial Intelligence, and Computer Games for Beginners by Raj Sidhu
This nicely illustrated book is an ideal step-by-step guide to coding with Scratch. It is designed for kids aged eight and upwards.
 5) Code Your Own Games!: 20 Games to Create with Scratch by Max Wainewright
Dedicated to creating games through easy to follow instructions, this book covers the basics such as drawing shapes to provide a great first step for kids looking to get into programming.
Conclusion:
 Setting your child on the path to learning coding is, quite literally, opening up the whole world for him or her. Whether your child is an aspiring artist, architect, astronaut or accountant, mastering the language of programming will give them a vital head start – and is also lots of fun! Hence, not only is coding for kids essential in this century, it is almost a must!