Scratch coding is no longer a fancy word for adult tech people. It is for everybody — even children as young as preschool.
No matter what the age, coding can be taught to all kids using screen-free activities, games, math challenges, and quizzes. Coding is a computer language that people learn to direct computers on what to do. It is like teaching your pet dog specific commands for them to obey.
The best way to begin is of course with Scratch junior or Scratch as per the age of the child. Scratch is a free educational programming language that was developed by the Lifelong Kindergarten Group at the Massachusetts Institute of Technology (MIT) with over 51 million registered users and 48 million shared projects. It is a children's coding game, which is waiting with open arms for children of generations to get in on the fun of coding for themselves. To imagine, build and play.
In today's story we will cover:
Importance of coding
Top 10 coding worksheets for teachers to get started with instantly
7 lesson plan resources

Top 10

websites to learn to code

Top 6 coding courses for kids

Top 10 Scratch activities for kids.

Here are 10 class hacks that engage any student
1. Importance of coding for children
It helps boost children's creativity: When children get exposed to difficult situations that require their creativity to navigate through, it increases their creativity.
It teaches children how to work in a team: When children code together in code camps and other coding programs, they are exposed to working with a team; this is a necessary skill in adult life.
It is an essential skill for the 21st century: We need Algorithms for artificial intelligence and robotics economy the world is preparing for. Coding prepares children for the future, even though we can't correctly predict the future.

It helps children think systematically.
 If you want to get your kid started with coding, here are the top 10 coding worksheets for kids. Some of these worksheets are free, while others cost a fee.
2. Top 10 coding

workshe

ets

for teachers to start instantly
Hour of Code: Coding puzzles for FREE.  You can get them

here

. They are great for grades 2-6.

March Unplugged Coding Worksheets Differentiated: They are perfect for helping children in 1st to 4th grade, as well as homeschoolers learn to code. They learn critical thinking, problem-solving, and St. Patrick's Day. You can get it here

.

Scratch 3 coding project: These worksheets are designed for children between 3rd and 6th They are fun to work with. They can be gotten here.

Animal themed coding fro FREE . They are

here

for you.

Spring Unplugged Coding Worksheet Differentiated: Designed for homeschoolers and children between 1st and 4th They are fun to work with and are affordable here

.

Springtime Coding Worksheet Set: This set contains sheets for children to learn beginners coding using arrows. It challenges students to think critically and use more than ten arrows when coding. Get this worksheet set

here

.

One-step inequalities coding worksheet: Children can learn mathematics and algebra using this worksheet. Find it

here

.

Friendly letter Worksheet: Children learn English Language art, ELA test, and writing. You can get it
These sheets are useful only with the right teaching methods and lesson plans. No teacher can accomplish significant progress without the right teaching environment.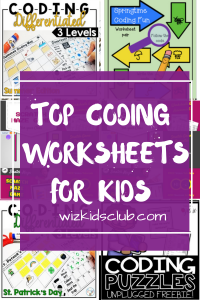 So, here are 7 lesson plans resources for effective teaching and learning.
3. 7 Lesson plan resources
ReadWrite Think: This resource provides you with a wide array of free lesson plans that engages the students. NCTE standards are addressed, and the assignment is broken into a theory of practice rationale, instruction plan, and links to other related resources.

Scholastic: If you teach K-8, then this resource is designed for you. The subject topics are intertwined, and the lessons are built around the Holidays. There are loads of resources here, including graphic organizers, book lists, whiteboard activities, and interactive computer lab.

National Geographic: Free lessons are designed in a modular system. They also provide an opportunity for children to master a given topic.

PheT: They create useful math and science simulations. The lessons engage students are easy to implement.

PBS Learning Media: The platform is interactive and very engaging for students.

Epic!: This resource has over 25 000 e-books for teachers to use and interactive whiteboard lessons.

EDSITEment: Teachers who teach humanities would find this resource as a treasure trove.
Having gotten the plans, how can teachers teach these topics without the students dozing off in class?  There is a need for class activities that engage students. Learning to code is easy if you have the right website to practice. We have compiled a list of the ten website to learn coding for children.
4. Top 10 websites to learn coding
You don't even need to shell out a ton of money or put yourself in debt to learn how to code, here are some websites you can get started with for FREE or a tiny fee.
code.org

Kodable
5. Top 6 coding courses for kids
Sometimes children need courses and online programs to help them walk through the coding waters. Here are five coding platforms that offer courses that your child needs.
Codecademy: This is one platform where your child's learning combines the fun and ease of Visual block coding that Scratch with the analytical and number-based coding that professionals use. A perfect blend of fun and coding. Codecademy is perfect for children of any age – kindergarten and above.

AT&T: Computer programming can be a fun and creative activity. It's just like playing a game: first, you find out what the game is. Second, learn the rules. Third, find out what tools you may need to play the game. Lastly, playing the game!
Wizkidsclub.com/courses: A place to create smart fun games, animations and cool visual effects in this program. Learn to code, understand computer science concepts by applying them in games.
Khan Academy

: This platform is one of the most used platforms. They offer free courses to kids who are interested in learning coding. Children of all ages (4 and above) learn how to code by following simple instructions. They engage in fun activities like collecting bugs, hats and toys for their favorite characters. The personalized learning that caters to each child's personality is impressive.

Code combat: With this program, children who love heroes and fighting with sword would have a swell time. Code combat combines the fun in games with the analytics of coding. The challenges are fun. Also, children can compete with other coders online, helping them to build their confidence through healthy competition.

Udemy courses: Udemy offers a wide variety of courses for children who want to learn coding. Although these courses are paid for, they are worth the fees. Here are some paid courses on Udemy that teaches kids to code with different coding languages.
Programming For Kids And Beginners: Learn to Code in Scratch

Code Your First Website with HTML and CSS for Kids & Beginners

Teach Your Kids To Code: Learn Python Programming At Any Age
Scratch is one of the most used coding platforms for kids. If you are organising a scratch bootcamp for kids, or a small gathering to teach kids coding, here are some activities they can do with SCRATCH.
6. Top 10 Scratch activities for kids
You can find the easiest Scratch projects from the video tutorials here. Else you can check out these below using google.
Make a beat: Add loops or beats on your own recordings. Then, pass it on to friends, and layer the beat to make a song.

Build a project with others by switching from station to station

Create a Rube GoldBerg style chain reaction using Scratch extensions to program a LeGo WeDo.

Use a webcam to create an interactive scratch project

Use a banana, a metal spoon, or other conductive objects to create games, instruments, or interactive drawings with scratch

Code a dancing sprite, add it to a dance party project. When you finish, watch it dance with other sprites from the group.

Create character conversation: Code a conversation between two favorite characters.

Let children Animate their names

Allow children code their own virtual pet with sounds, animations or other effects.

Design and code a bouncing ball game, then challenge friends to play.
7. Here are 10 class hacks that engages any student
Buzz sessions:

One word splash: Students write down one word that sums up a particular lesson or teaching material.

Gallery Work: Students view the works of classmates. It helps students get serious and committed.

Think-Pair Share: After teaching a topic, let students pause, think of what you taught. And let them share their thoughts with the class. It helps with metacognition.

Circle the Questions: Students write questions in a piece of paper and put in a bowl. Random persons pick the questions and ask the class.

Brainstorming: have Teacher gives a topic, while students write down the first thoughts that come to their head when they think about the subject.

Partner Pretest: Preface lesson with a pretext before teaching a new skill.

Secret answer

Response cards

Find Your match
In a world where technology is changing the way we see the world, getting your child involved with coding, no matter the age, is a wise decision. Each child may veer towards different programming languages. Leave them. Just give them a level playing field by allowing them to learn and practice coding. They would be better for it.