Halloween is near! Are you looking for Halloween activities that can make this year the best one ever?
One of my children's favorite time of the year is October, and more specifically, Halloween. We usually go trick or treating, try crazy pranks, make costumes, have some lights, music show, and decoration in our yard.
Kids get excited and have fun preparing for these activities!
Here are some Halloween activities that you can do with your kids or on your own to celebrate the day.
We have compiled a list of Halloween crafts, games, and recipes that are certain to make your little one's Halloween, fun-filled and spooky!
Here are the top 5 Halloween activities to do with kids and family.
1) Decorating The House
One thing that we have always done (for as long as I can remember) is decorating the house with spider webs. I can't even remember how we first started doing it, but it's always been a tradition for us to make our home spooky with spider webs and other Halloween props.
I love the idea of going all out in getting some decorations for your house from outside sources, but I also like trying to convey the same message without spending a lot on supplies. So here are some great Halloween decorating ideas that you can do using items that you may already have around the house or that you can get very inexpensively at any dollar store (think $1 -$2).
Using toilet paper rolls and cotton wool to make spider webs is one of my favorite! It works best if there is an adult to help you out.
Go extra this year and decorate the front yard or entrance door with sticky spider webs! Add some scary music and lights to make it a thrilling experience!
2) Crazy Pranks Ideas For Adults and Kids
Got some extra time to kill? Then prank your family and friends! Here is my favorite prank:
If you have any other great ideas, please share them in the comments section below. I would love for everyone else to benefit from your great ideas too!
Fake blood or chocolate syrup: It is always a good idea to keep 2-3 packs of ketchup packets in hand so that if blood splatter gets out of control, you can clean it up quickly and easily. Adding real food coloring will help give it that "fresh" look as well as make sure it stains! You can also use some leftover chocolate syrup instead of ketchup for an extra yummy effect.
3) Creepy Halloween treats for kids
Take out time to create creepy treats and candies for all kids and adults. Here are 5 ideas you can try this year.
Make sure you have plenty of fun-sized boxes handy so that you can turn regular treats into creepier ones easily using Rice Krispy.
Some of the great ideas are chocolate candies in the shapes of spiders, bats & bugs. Bubble gum shaped like worms and webbing!
Skinned lemons: Skin lemons with a peeler to create a realistic-looking dead body effect. Just cut into pieces and serve as drink garnishes or snack food at parties
Buy some cheap white pita bread from the grocery store, spread on some cream cheese, and put it out with some black olives for the eyes. Kids will love them!
Use cookie cutters to create monster shapes that fit on top of your favorite cupcakes!
4) Making Halloween costumes can be fun.
Try to figure out what you want your costume to be and search online for ideas. If you are having trouble finding what you need, there are many websites that sell Halloween costumes and accessories.
Attaching a monster mouth or pieces of clothing on the collar of an old shirt can make a great accessory! You could even go all out and buy some fake clothes from dollar stores or party supply places.
Some more simple yet effective ways would be a black hoodie with two holes cut in it for eyes, a rubber band around the nose (make sure your nose isn't showing), and big holes cut at the bottom for the arms. This is very easy but nevertheless horrifying!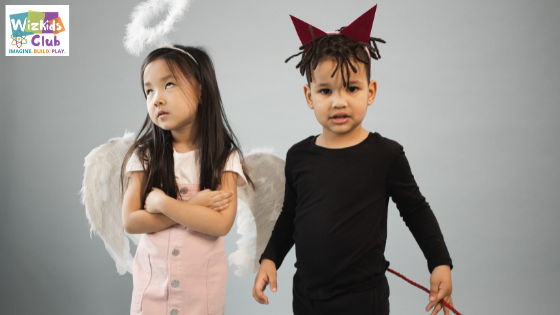 5) Scary videos and effects for Halloween.
Create a scary movie to share with your family and friends by hiring a videographer or using an app that can create scary videos, adding effects and sound. Create a Halloween set by drawing creepy-looking pumpkins, tombstones, puppets with body parts, and other spooky things that can give out a good vibe in your house! You could even draw monsters and hang them from the ceiling!
Think of a story and record it with the help of some more artists and friends. You can act out your story for that spooky Halloween feeling. Add scary sound effects.
Try to record yourself going "Wooooooo!", scream and do other things, and get them on tape. These sounds are great for the atmosphere of a Halloween party or just to scare your friends in the dark! Have fun creating stories around these simple freaky sounds, it will be very entertaining for sure!
We hope you've found some great ideas for things to do this Halloween and will be able to use them with your kids.
And if you have any more questions about how to make this Halloween super awesome, or what it means when a kid says they "get bored," please don't hesitate to ask!
I have a ton of ideas and projects to make every day exciting. No more bored kids.
Here are some STEM Activities to do at home.
STEM AHEAD! DIY FOR KIDS