The eve of Halloween covid is near and everyone is in the mood for celebration. However, COVID pandemic might want you to cancel the party and stop you from going for "trick or treating".  But it doesn't have to be so! Don't cancel this year's party, instead reinvent it with these TOP 5 HALLOWEEN STEM PARTY IDEAS specially for 2020.
After all Halloween means parties, magic tricks, projects, activities, costumes, and kids' favorite: 'trick or treat'. Don't let COVID rain on your parade!
Top 5 Halloween STEM Activities! Simple Spooky Tricks and Party Ideas for Halloween with Kids in 2020!
Watch a Scary Movie or Ghost Story at Home: DIY shoe-box projectors
Buying or renting a projector could be expensive and burn a hole in your pocket. How does making a simple shoebox projector sound? It seems like a great nifty idea to go for! You could build the shoebox projector at your home with your kids.
Make your own shoe-box projector using a shoebox, magnifying glass and any smart phone. Yes! It's that easy and you can have that in minutes! Run a video or movie out of your phone and project it on a wall or screen.
It would work well in any open space while maintaining safe distance and social distancing from one another. You could also project it on a wall and keep it to just family. Grab some popcorn and enjoy the feel of a movie theatre.
WIZFLIX DIRECTIONS: Get the directions here and learn how to build a shoebox projector at home.
WIZFLIX "DID YOU KNOW?" FACTS: Learn the science of light, properties of light, lens, inverted image, magnification, reflection and refraction just by joining the course: "CARDBOARD PROJECTOR". A great way to learn the physics behind light waves.
2. Using LED for Simple Spooky Tricks
Light it up! You could always use LEDs to decorate your Halloween party. Break free from the traditional way of hanging bought electric lights and come up with a twist this year. Invoke your child's curiosity and creativity in this process. Let them learn some simple electronics and make LED Masks, LED Ghost House, LED bookmark and more things made of LED lights.
WIZFLIX DIRECTIONS: Here are some ideas.
WIZFLIX "DID YOU KNOW?" FACTS: Learn about circuitry, conductors, LEDS, bulbs, motors and more by joining this lesson now.
3. STEM Story Books: Reading scary books and adventure stories together with an element of STEM in it
Ghosts are always known to be the central theme for Halloween. But, you could use something new this season. Give it a personal touch by gifting friends and family with a mystery book; filled with adventure, magic and making. A perfect STEM story book for kids.
Ghost of the Forbidden City: Get it here
Keiko and Kenzo's thrilling adventure story where a fun school trip turns into a scary night. With dark storm clouds and a hollow face. Find out what happens next as Keiko, Kenzo and their friends set out to get to the bottom of the mystery. The book also offers insights and information on culture, history and geographic sites including the Great Wall of China, The Forbidden Palace, Zodiacs and Wonders of the World. It is a thrilling adventure book woven with real world facts, to make learning absolutely enjoyable.
STEM Inventions: Science and technology has been fused into the story to inspire kids to explore and invent. They solve the problems by building simple machines and gadgets. The secret is out! Find out how.
4. Drawing and Painting Happy Monsters and Cute Creatures
Hanging pictures of cute happy monsters and cute creatures could be a good way to break the trend and bring in humor amidst spookyness. It is not necessary that you need to make scary decorations. A happy environment can make the party ambiance perfect and more enjoyable for little kids.
WIZFLIX DIRECTIONS:  HAPPY AND CUTE MONSTERS: Learn to draw and paint here
5. Weave in Magic and Wizardry
Cast a spell, create magic by decorating the house and party place with wizards and enchanted creatures. Learn simple watercoloring techniques and step-by-step method to get started.
WIZFLIX DIRECTIONS: CUTE WIZARDS AND ENCHANTED CHARACTERS: Learn to draw and paint here

CONCLUSION:
Have a fantastic Halloween this year and use any or all of these TOP 5 HALLOWEEN STEM PROJECTS AND PARTY IDEAS to have a ton of fun.
If you need more ideas you can check out www.wizkidsclub.com
Let creativity flow with WIZFLIX's training. It has several DIYs, hands-on ideas and science projects. It is an initiative to prepare kids for next-generation learning. With hundreds of hands-on activities and design ideas, your child could easily move to the next level of creativity and learning.
You can check out the video courses here: https://wizkidsclub.com/courses/
Just join the 7-day free trial and try it out!
Just give it a shot and see the difference! Trust me, its amazing and leave you wanting more!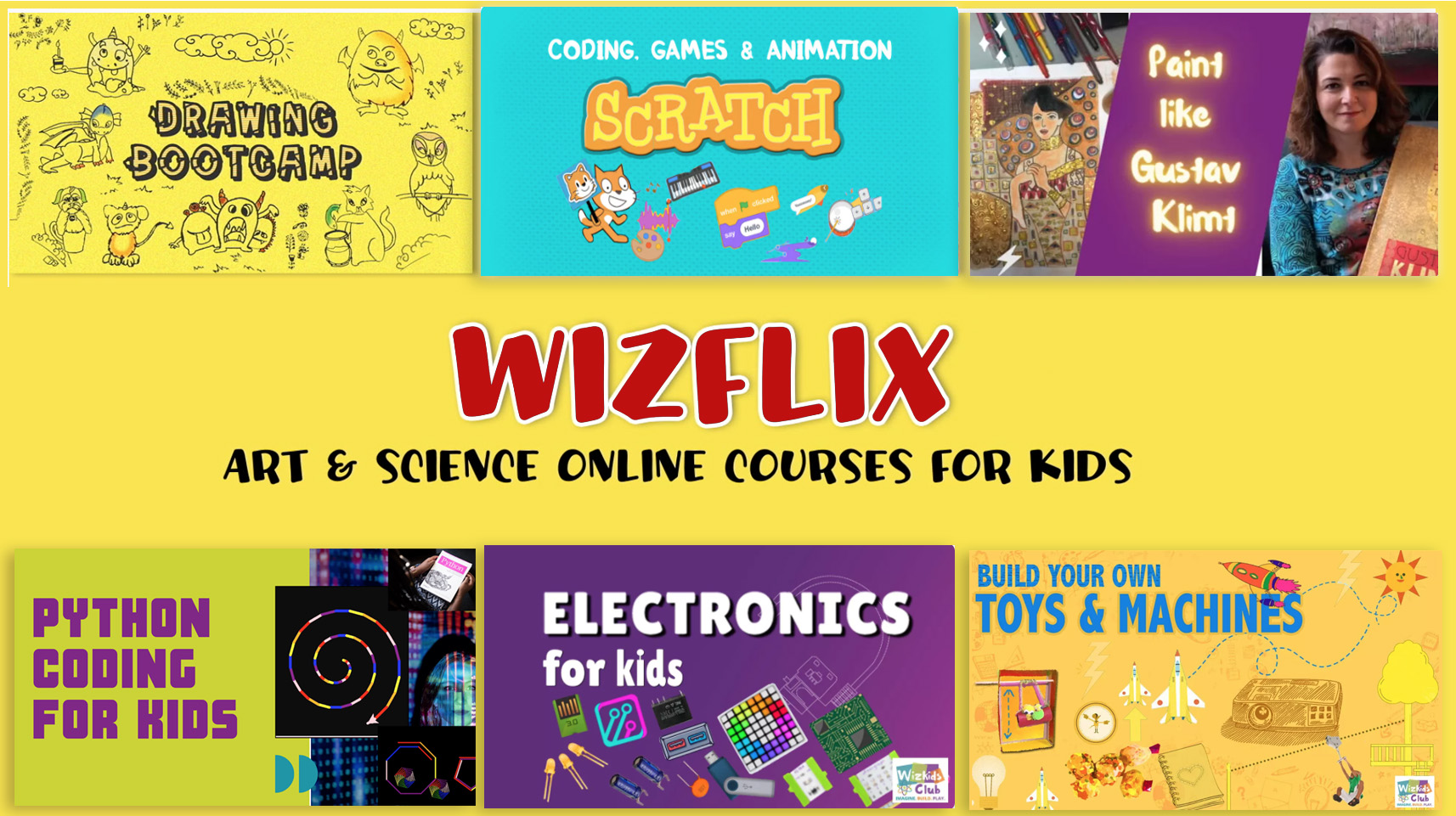 After all Halloween means parties, magic tricks, projects, activities, costumes, and kids' favorite: 'trick or treat'. Don't let COVID rain on your parade! If you enjoyed this, share it with your friends and family.